For people living with an abusive partner, staying home and avoiding all unnecessary contact with family and friends amidst the COVID 19 pandemic could be extremely unsafe. We must remember that not everybody lives in safety and often a crisis of this nature will exacerbate the abuse someone is already experiencing.
Please read the following article for insights and strategies on how to cope and stay safe during this time. Know that you not alone if the COVID 19 crisis has impacted the tactics your partner uses to control, isolate, and frighten you.
Emergency women's shelters in Canada remain open. Please go to ShelterSafe to see where a women's shelter is located near you. Each province and territory has crisis lines you can call if you are experiencing intimate partner violence and need support. See the list here.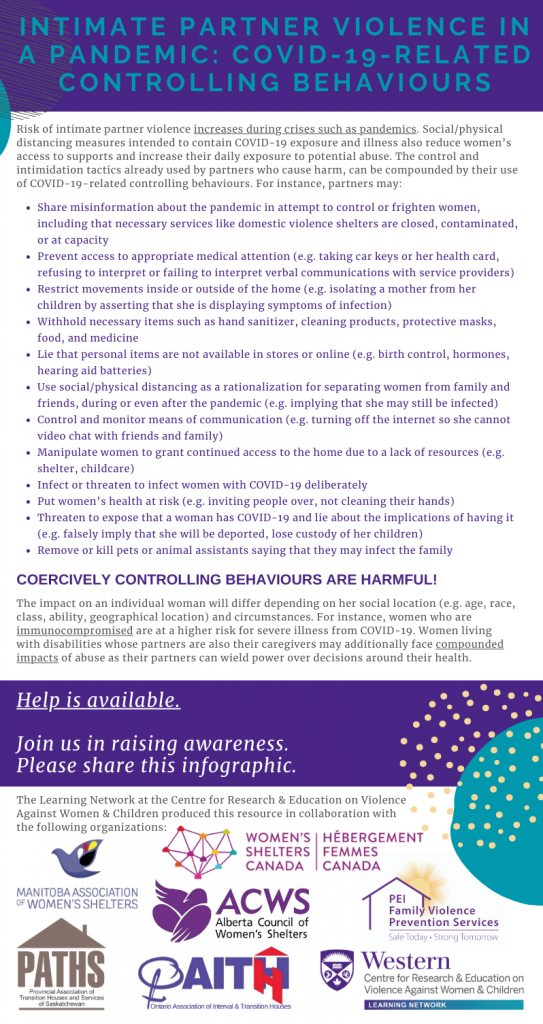 Further resources
If Your Are Locked Down With Someone Who May Become Violent
The Impact of Coronavirus on Victims of Family Violence
3 Considerations for Supporting Women Experiencing Intimate Partner Violence During the COVID 19 Pandemic